Ukraine interior minister: 21 people still missing after Kremenchuk attack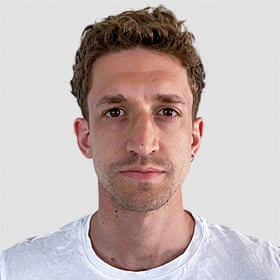 Pjotr Sauer
Pjotr Sauer reports from Kyiv:
Ukraine's interior minister Denys Monastyrskiy said in a briefing that 21 people were still missing after the attack on the Kremenchuk shopping centre.
"We have the bodies of 18 people, 21 people are still missing," Monastyrskiy said, adding that some of the missing people could be among the 18 bodies that have been found.
The UK's prime minister is expected to ditch his manifesto commitment to increase the defence budget by at least 0.5% above inflation every year, putting Boris Johnson on a potential collision course with his defence secretary, Ben Wallace.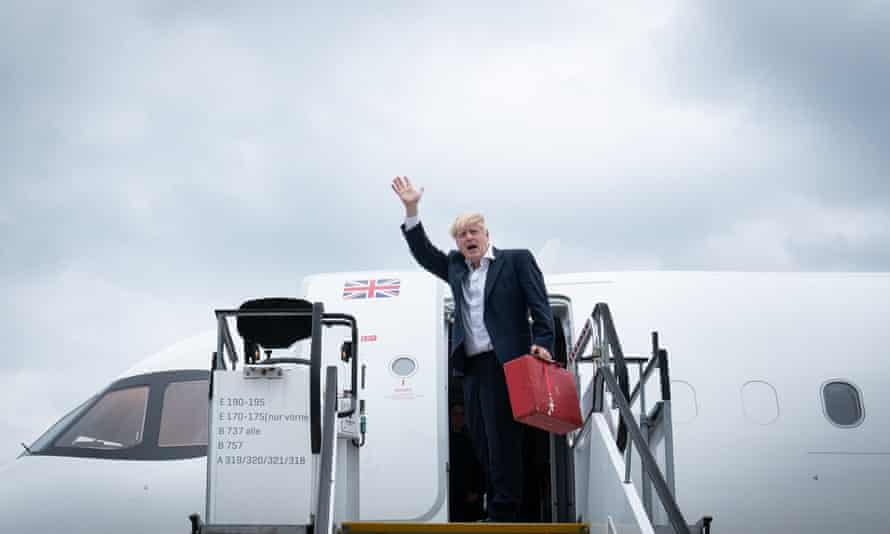 Wallace, who is joining Johnson at the Nato summit in Madrid this week, has reportedly written to the prime minister to call for the defence budget to be increased to 2.5% of GDP by 2028. It is currently just over 2.1%.
Read more from my colleagues Peter Walker and Dan Sabbagh:
Russia's foreign minister has said the more western countries send weapons to Ukraine, the longer the conflict will last, Reuters reports.
Speaking from a news conference during a visit to Turkmenistan, Sergei Lavrov also said Russia did not target the shopping centre in the Ukrainian city of Kremenchuk on Monday.
Earlier the Guardian reported at least 21 people are still missing after the missile strike. Eighteen are believed to have been killed.
Russian forces arrest Ukrainian mayor in Kherson, adviser says
Kherson's mayor, Ihor Kolykhaiev, was arrested by Russian forces on Tuesday, according to an adviser to the mayor, Galina Lyashevskaya.
"They took Igor Kolykhaev" she wrote on Facebook on Tuesday afternoon.
In another post, she wrote Kolykhaiev visited a utility facility when leaving a car, was immediately detained by armed national guards, "most likely the FSB".
Lyashevskaya said hard drives were seized from computers, safes were opened, and guards searched for documents. During this time, she wrote Kolykhaiev was kept in a separate office, and handcuffed in the presence of armed guards.
After the search, Lyashevskaya said the mayor was put "on the Z bus and taken away".
Lyashevskaya wrote:
A few days ago, Kolykhaiev received a letter from the 'newly-appointed' mayor, where he invited him to discuss the future 'organisation of interaction'. For refusing to meet, he threatened with arrest. Kolykhaiev did not go.W e are all in danger. Everything is under attack. I fear for the life of Igor Kolykhaiev.
Here are some of the latest images to be sent to us from Ukraine over the newswires.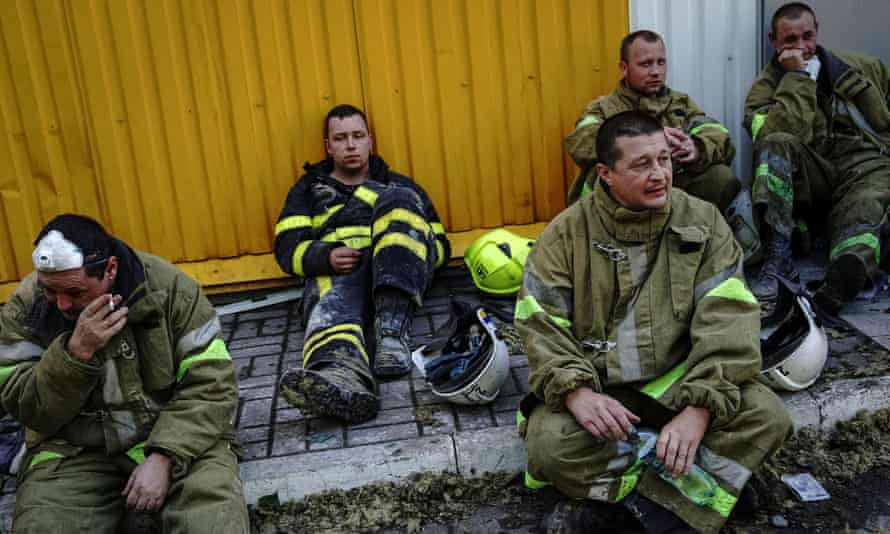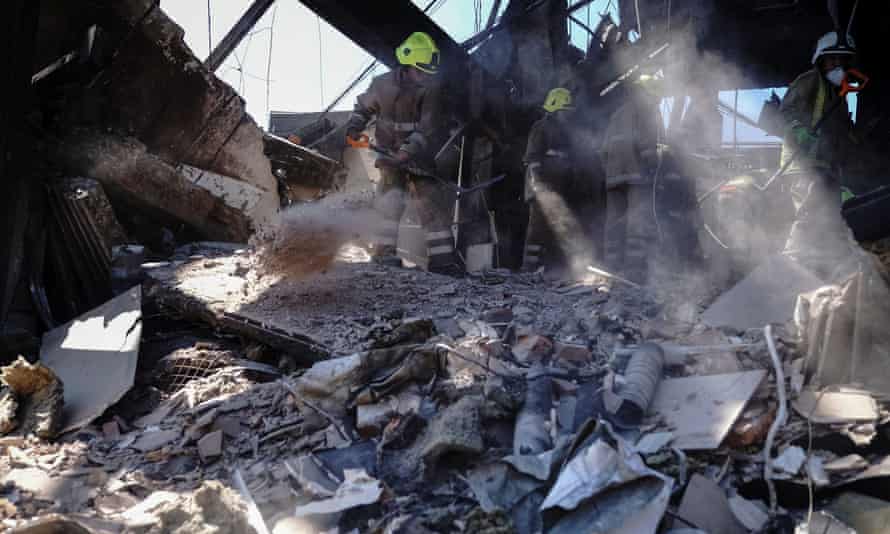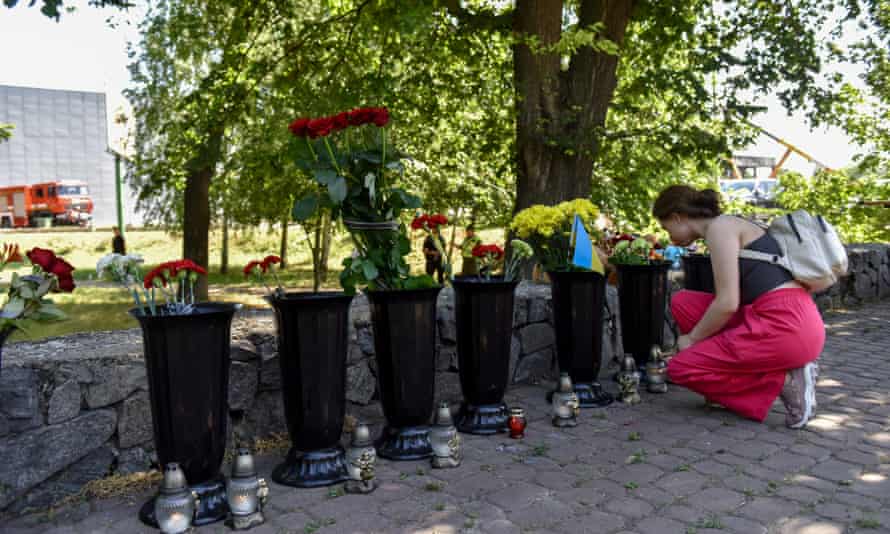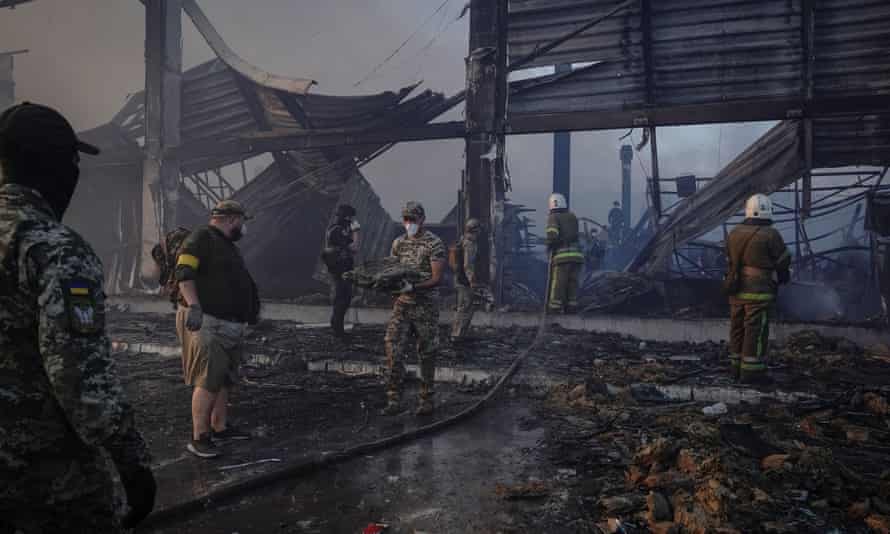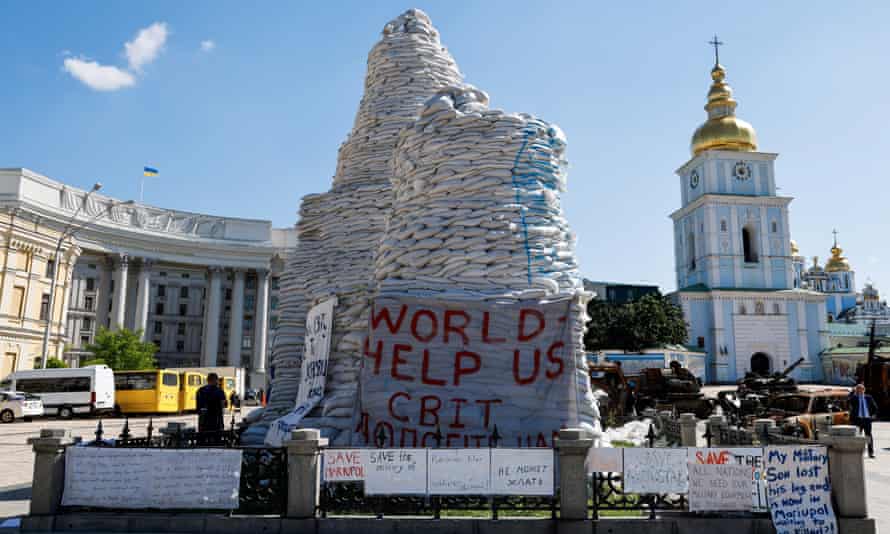 Here's footage of the shopping centre in the city of Kremenchuk in central Ukraine, hit by a Russian missile on Monday. The attack killed and injured scores of people.
Boris Johnson said G7 leaders agreed to "give Ukrainians the strategic endurance they need to try and shift the dial".
Speaking with Sky News from Germany, as the G7 summit draws to a close, the UK prime minister said this is what the Ukrainian president, Volodymyr Zelenskiy, "wants us to do".
Earlier, the chief of general staff, Gen Sir Patrick Sanders, said Britain is facing its "1937 moment".
When asked of Sanders' remarks and whether Britain is preparing for war with Russia, Johnson replied: "I don't think it will come to that." Johnson added that leaders were "clearly" working very hard to confine the conflict.
Johnson said:
Putin and the Kremlin are going to try to widen the conflict, and say this is something between Nato and Russia. That's not it at all. This is about an invasion of an independent, sovereign country. It's about the west and all the friends of Ukraine giving them the support that they need to protect themselves.

G7 leaders agree to explore cap on Russian oil price
As the summit of the Group of Seven economic powers draws to a close leaders agreed to explore imposing a ban on transporting Russian oil been sold above a certain price, reports Reuters.
"We invite all like-minded countries to consider joining us in our actions," the G7 leaders said in the communique.
The price cap would be a way to prevent Russia from profiting from its Ukraine invasion, which has skyrocketed energy prices. A senior US administration official said the price cap would squeeze Putin's resources and "increase stability and the security of supply in global oil markets".
G7 leaders also agreed to push for a ban on Russian gold imports.
German chancellor Olaf Scholz said the G7 "stands together in their support for Ukraine."
Speaking from the Bavarian Alps in Germany, Scholz added:
We agree that president Putin must not win this war, and we will continue to support and we will continue to drive the cost high, economically and politically for president Putin."
Scholz said leaders will also counter the "Russian narrative" that only the global west contends their aggression. He said talks revealed that is "not the case."
Addressing European leaders, Scholz said in addition to providing humanitarian and military support, additional money needs to be mobilised for Ukraine's long-term reconstruction.
"We need a plan," he said. "This needs to be planned well, and developed well."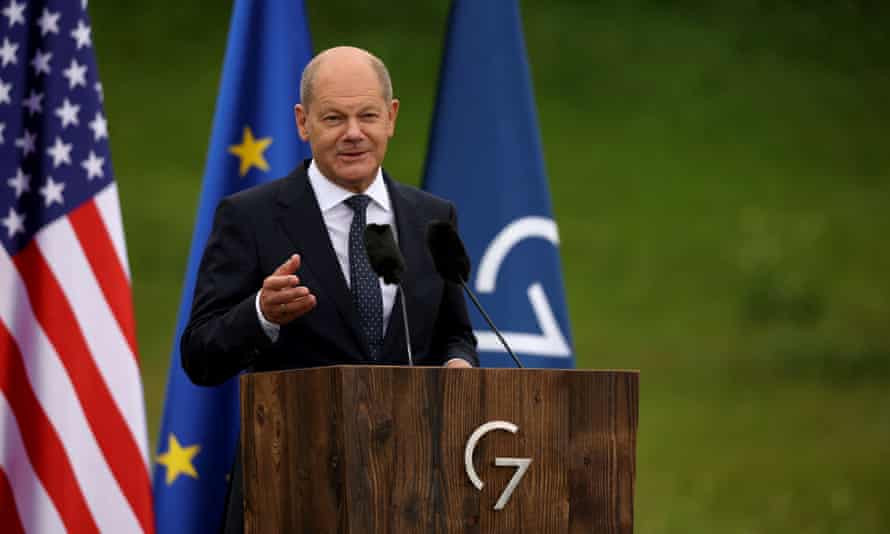 Ukrainian forces will try to hold the line against Russian forces from the city of Lysychansk, buying time for the arrival of western weapons, said Luhansk's governor.
In an interview, governor Serhiy Haidai said Moscow's forces are trying to surround the city, which is a vital stronghold for Kyiv, Reuters reports.
Haidai said:
They'll achieve nothing in several days (in Lysychansk) like they're saying (they will). The geography of (Lysychansk) is difficult. It's very spread out. It has a private (residential) sector, there are nine-storey apartment blocks, it has drops, there are lowlands and there are rises.
He added: "Our task is to hold back the enemy as long as possible and to inflict maximum damage on them … As long as Russia's army remains in one place, time is on our side. We will receive weapons from the west."
Haidai said western arm supplies were "helping" but are "far from the critical amount" needed.
At least 21 people are still missing after a Russian missile hit a crowded shopping centre in the central Ukrainian city of Kremenchuk on Monday, Ukrainian prosecutors have told the Guardian. About 18 people are believed to have been killed. Military personnel, volunteers, firefighters and police have been working non-stop to recover bodies from the rubble. Authorities estimate there were between 200 and 1000 people inside the mall that afternoon.
Zelenskiy described the attack on Kremenchuk as "one of the most defiant terrorist attacks in European history". "A peaceful city, an ordinary shopping mall with women, children, ordinary civilians inside," he said. "Only totally insane terrorists, who should have no place on earth, can strike missiles at such an object. And this is not an off-target missile strike, this is a calculated Russian strike – exactly at this shopping mall."
The leaders of the G7 said Russian president Vladimir Putin's attacks aimed at civilians were a "war crime" and condemned the "abominable attack" in Kremenchuk. "We stand united with Ukraine in mourning the innocent victims of this brutal attack. Indiscriminate attacks on innocent civilians constitute a war crime. Russian president Putin and those responsible will be held to account," a statement read. They said they would "continue to provide financial, humanitarian as well as military support for Ukraine, for as long as it takes".
British government minister Chris Philp said that the strike was "terrorism" and illustrated there was "no end to Putin's barbarity". He said it was "part of a consistent pattern of atrocities being committed by the Russian government".
Russia's ministry of defence has claimed that the fire in the shopping mall in Kremenchuk was caused by "the detonation of stored ammunition for western weapons". No evidence was offered to back up the claim.
Russian shelling of a residential area in Ukraine's second largest city, Kharkiv, killed at least five civilians on Monday, the regional governor said. A further 19 people were wounded in the attack, Oleh Synehubov said.
A Russian missile attack also killed at least eight civilians and wounded 21 in Ukraine's eastern Lysychansk region. "Today, when the civilian people were collecting water from a water tank, the Russians aimed at the crowd," Serhiy Haidai, Luhansk governor, said on Telegram.
Russian forces are being increasingly hollowed out, have degraded combat effectiveness and only achieved tactical success at Sievierodonetsk despite fielding the core elements of six different armies, according to the latest UK Ministry of Defence intelligence briefing.
German chancellor Olaf Scholz said there can be no return to prewar ties with Russia. Scholz said after the G7 summit that with its attack on Ukraine, Russia had broken "all the rules, all the agreements we have made with each other on countries' cooperation". He said G7 leaders agreed that it had led to long-term changes "which will mark international relations for a very, very long time. So it is clear that, in relations with Russia, there can be no way back to the time before the Russian attack on Ukraine."
The UN security council will meet on Tuesday to discuss Russia's targeted attacks on civilians at the request of Ukraine.
Nato will boost the number of troops on high alert more than sevenfold to over 300,000 in response to Russia's invasion of Ukraine. Nato's secretary general, Jens Stoltenberg, said the military alliance's forces in the Baltic states and five other frontline countries would be increased "up to brigade levels" – doubled or trebled to between 3,000 and 5,000 troops. That would amount to "the biggest overhaul of our collective defence and deterrence since the cold war", he said.
Zelenskiy has said of the Nato summit in Madrid this week that he has spoken to secretary general Jens Stoltenberg.
Turkish president Tayyip Erdoğan said he would meet US president Joe Biden at the Nato summit this week and discuss what he said was Washington's "stalling" of Ankara's request to purchase new F-16 fighter jets. Erdoğan also said Finland and Sweden must take Turkey's concerns into consideration and deliver not only words but results if they wanted to be Nato members.
The UK defence secretary, Ben Wallace, has reportedly written to the prime minister to call for the defence budget to be increased to 2.5% of GDP by 2028. The leaked request, first reported by Talk TV, emerged on the eve of the Nato summit in Madrid, which will discuss the renewed threat posed by Russia and the anticipated commitment of hundreds more British troops to the defence of Estonia.
Any encroachment on the Crimea peninsula by a Nato member-state could amount to a declaration of war on Russia that could lead to "world war three", Russia's former president, Dmitry Medvedev, was quoted as saying on Monday. "For us, Crimea is a part of Russia. And that means forever. Any attempt to encroach on Crimea is a declaration of war against our country. And if this is done by a Nato member-state, this means conflict with the entire North Atlantic alliance; a world war three. A complete catastrophe," Medvedev told the Russian news website Argumenty i Fakty.
The US is planning to buy and send more medium- to long-range missile systems to Ukraine, including Nasams, an advanced surface-to-air missile system, according to defence officials. The US national security adviser, Jake Sullivan, confirmed on Monday the US is in the process of finalising a package that includes advanced air defence capabilities.
Putin and his Brazilian counterpart, Jair Bolsonaro, discussed global food security and confirmed their intention to strengthen their strategic partnership, the Kremlin said on Monday. Putin assured Bolsonaro in a phone call that Russia would fulfil all its obligations to supply fertilisers to Brazil, the Kremlin said in a statement as reported by Reuters.