Supply cover is costing hundreds of millions of pounds more a year as staff illness rates soar and teacher shortages worsen.
But the Academies Enterprise Trust (AET) is bucking the trend. Its supply bill this year is projected to be £180,000, down from £1 million in 2021-22.
The trust, the country's third largest, threw down the challenge to the leaders of its 57 schools to find ways to cut their spend.
Bexleyheath Academy in south-east London spent £421,665 on agency staff in 2018-19. That's down to £5,621 this year for a fixed-term maternity cover.
The trust's success is built on merging classes, which it says gives pupils a better experience than a class run by a cover teacher.
'Pupils get more consistent experience'
Pupils attend "combined cover" classes during short-term teacher absences, which means up to three classes – about 66 pupils – learn in a former school hall in exam-style conditions.
They complete set work from external resources such as Oak or pre-recorded lessons from teachers on Chromebooks, which the trust has supplied to all its pupils.
Members of the senior leadership team (SLT) and a full-time cover supervisor walk between the single tables, offering support if needed.
"The experience pupils get is much more consistent," said Graeme Napier, Bexleyheath's executive principal. "They know what we expect from that session."
When Napier joined as principal in September 2019, the school – then 'inadequate' – had high teacher absence rates, with supply staff deployed often at the last minute.
"I would walk around and look at some of the agency staff… it was just hugely variable," he said.
Pupil behaviour was also variable. "We were spending a huge amount on something we didn't necessarily see the impact of."
'Important to address other factors'
Sometimes teachers with a free period would also be asked to cover – which would take away their time to mark work or plan.
"A solution for cover was important but it was also important to address the other factors influencing why staff weren't coming in," Napier said.
Wellbeing measures, such as flexible working periods, allowed teachers to work on or off site.
According to trust data, staff absence at the school has fallen 62 per cent since 2019. It was rated 'good' in 2021 and its Progress 8 score is 0.05, above the national average and considerably better than the -0.67 in 2019.
Napier said the supply model – meaning subject teachers no longer provide cover – has also cut workload.
But there were "teething problems", particularly during Covid when classes or year groups could not work together.
The school also had to invest in its internet infrastructure to enable large numbers of children to log on at the same time.
'Quality of teacher makes the difference'
"If you just look at it on paper…you might think 'oh it's [loads of] pupils in one class'," said Claire Heald, the trust's director of education.
"But when you compare [pupils being] in a bigger classroom with a really strong teacher, really good materials for learning and set up with the tech to support it against a supply teacher…then you can see the reasons we might do it."
She points to research from the Education Endowment Foundation, that suggests smaller class sizes have "minimal impact" on pupil progress.
"What makes the difference is the quality of the teacher." 
Three per cent of lessons at the school last week were combined cover, whereas in 2019, up to 30 supply teachers a week were needed.
Heald said the model also led to "really positive standards", with behavioural incidents falling 97 per cent between 2018-19 and 2020-21 – 21,815 to 755.
Schools should 'think about their own contexts'
Other AET schools have adopted similar models, but Heald said they were told "to think about what works for their contexts" such as how much physical space they had and what is right for their pupils.
During short-term absences, some schools merged two classes of the same key stage subject, or pupils in core subjects were spread out across the classes available.
Supply staff were still brought in for early years and key stage 1, because, Heald said, "it wouldn't be appropriate" to place them in larger groups.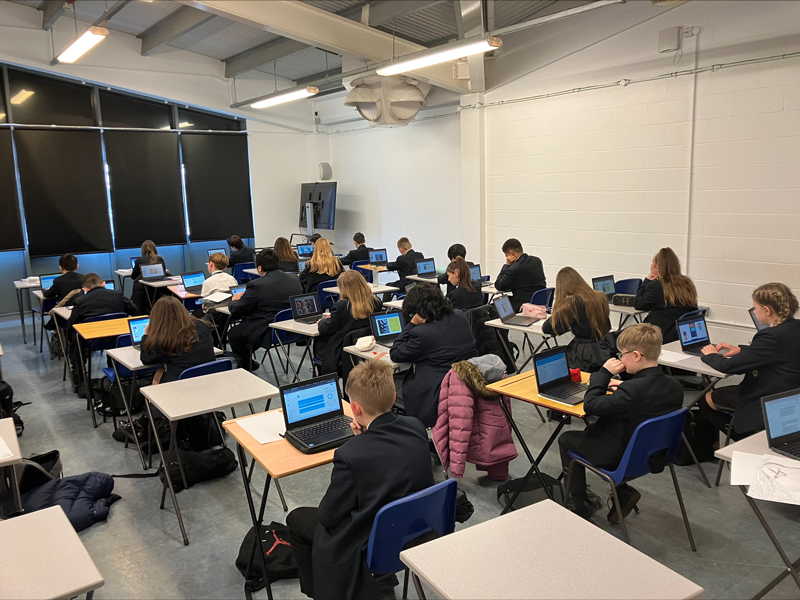 Year 11 and 13 were also prioritised.
The trust also accepted a "fully zero supply model" might not be possible for instances such as the recent spike in winter illnesses.
Napier admitted subjects with a practical element could be more "difficult" to cover, with pupils instead set relevant online tasks.
The model also does not solve longer-term teacher vacancies. AET established its own teacher training provision in September to address this.
The trust also spend £2 million buying 9,000 Chromebook laptops in 2020, in addition to 5,500 that were provided by government – likely unaffordable for many other smaller trusts or single schools.