Dr Kulvarn Atwal's reputation for teacher development recently attracted the entire staff of a Norwegian school to Essex, just to watch him teach.
But the headteacher of two maintained primaries in Ilford admits his innovative approach means some consider him a "maverick".
And right now he's wielding a mighty axe to grind against Ofsted. Its determination to ensure all schools stick to set curriculum guidelines could mean he loses his headship.
While one of the primaries he leads, Highlands, is deemed to be 'outstanding', the other, Uphall, where he has applied the same approach with similarly impressive behaviour and attainment outcomes, has just been graded 'requires improvement' for a second time.
Atwal has just 15 days from last Monday to make the case to their regional director as to why the school should not be ordered to become an academy and join a trust, which will he believes would see him "removed" from post.
"There's nothing more we can do. Our local authority legal team just think you cannot win against Ofsted."
Atwal, the author of two books on teacher development, believes the current culture of "monitoring, compliance and control" is to blame. He says the "ears of government" are held by those who don't believe teachers can be trusted.
He looks aghast at the 11,000-word formal complaint he wrote to the watchdog – which made no difference to the grading, despite it acknowledging errors made during and after the inspection.
"They're destroying a school community that is absolutely thriving," he says.
Funding teachers to learn
Atwal believes his schools are thriving because of investing heavily in teachers' professional development, with graded observations ditched.
It all started when, three years into his doctorate in education while deputy head of Uphall, he discovered workplace learning theories arguing that more learning takes place informally than can ever take place formally. The theories – which "blew" his mind – are not unusual in the corporate world, but have yet to gain traction in schools.
Atwal went on to design a model for school leaders to maximise teachers' learning opportunities. At the crux is the notion that for children to be critical thinkers, their teachers must be empowered to be so.
Atwal pays 60 per cent of the cost for any teacher at either of his schools to study a masters in education-related subjects, and gives them time off during the day for research. At Highlands, up to 50 per cent of teachers have completed the higher degree, part-funded by the school, while at Uphall it's 15 per cent.
His approach is rare in the UK, where just over 20 per cent of teachers are believed to have a master's degree. In Finland, it's 100 per cent.
CPD here is normally restricted to five training days a year and weekly after-school meetings, when Atwal claims teachers are "knackered".
While other heads dismiss his strategy "because their teachers could go work elsewhere" after graduating, he believes in "developing teachers for the profession, not just for our schools".
The funding his schools provide – £600 per module – is the same as three days' supply cover. While maintained schools are facing severe cost pressures, Atwal claims he spends much less on supply and recruitment than other schools.
When he arrived at Highlands his supply budget was about £100,000, with £15,000 for recruitment and retention and £5,000 for CPD. Atwal boosted the CPD budget to £20,000 and cut supply funding to £80,000, because "teachers don't get stressed and pressured, so they don't get sick so much.
"I don't need to be covering these people because they're happy, they'd rather come into work."
Sandy Kaur, Highlands' deputy head, never believed she was capable of a masters. She is now on her second – in race, education and decolonial thought.
But finding the time to study doesn't come easy, she admits. "It's getting harder, because the pressures and workload are tougher than I've ever known. But we all wanted to go for it because it makes us better teachers."
Pupil-turned-head
Atwal identifies with his working-class Highlands kids because he was a pupil there himself; his grandfather was illiterate, dad worked on a building site and mum in a factory.
School reports show teachers saw him as a chatterbox who would "only work with constant supervision".
He began studying for a MEd in his NQT year "in secret" after being told by leaders of the resource provision school in Stratford where he taught that it was "not appropriate" for someone in their first year teaching. But by the end of his sixth year, Atwal was managing a teacher training school there.
Five weeks before he began leading Highlands in 2012, it went from 'outstanding' to 'requires improvement'.
He was under pressure from council officials to turn it around. But his plan – a cull of graded lesson observations, with teachers instead "developing their understanding of the craft of teaching" through peer learning and research – was not what they had in mind.
Atwal said he was looked at as if he were "completely mad" and ordered to observe every teacher, with warnings he "could lose his job" if the school did not improve.
He chose to ignore them. Teachers who "preferred a more hierarchical model" – including the entire leadership team – left.
Atwal, who was then in the fourth year of his doctorate, could not afford for his teachers to do advanced study, so he led their research instead.
They studied a book by Paul Black and Dylan Wiliam, Inside the Black Box: Raising Standards Through Classroom Assessment, which explored how to "enable children to become self evaluative". Then each year group team came up with a research question to investigate.
Instead of leaders observing lessons, Atwal extended an "open invitation" for any teacher to observe him teach each day – "not because I'm the best teacher, but because they can begin to understand what dialogic teaching looks like. You're more interested in the quality of a child's thinking and motivation than what they're producing in books".
'Peer learning' involved three teachers observing another in an area of practice they "might be struggling with", which Atwal explains "can only happen within a culture of high trust".
At the end of term a celebration evening was held in which each group presented findings. They were then incorporated into a "roadmap to improvement".
In testament to the success of his approach, in five years Highlands was recognised under the Mayor of London's School for Success programme as one of the highest-performing primaries for pupil progress. Ofsted graded it 'good', then 'outstanding' in 2019 – the year Atwal's first book, The Thinking School, set out his ideas.
He took over at Uphill just after Ofsted had rated it 'requires improvement'.
"Everything you possibly could think of as wrong with a school was wrong". He removed the entire leadership team.
He describes the next phase as "the messy stuff – the restructuring, which then becomes allegations against me. But when you're running a school, just be cleaner than clean. Go by processes. That way, unions can't say anything."
Atwal's claims to have cut £1 million in annual costs from the five-form entry school partly by shedding leadership positions. He "empowers everybody to be seen as a leader".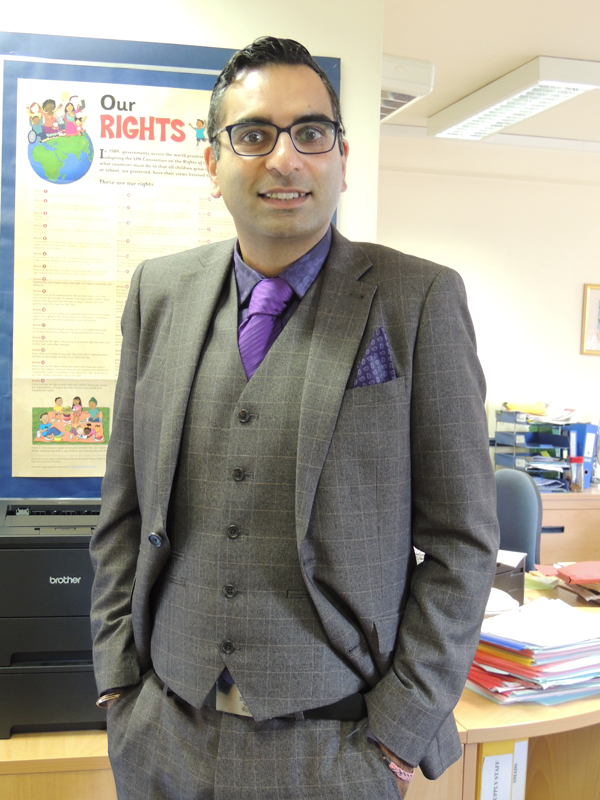 Battle with Ofsted
He was relieved to get a call from Ofsted last year, because as an RI school Uphall is not entitled to DfE funding for falling rolls – worth £307,000 that year. The falling number of pupils is a "massive issue in London" and has a greater impact on larger schools like his.
He thinks the funding exemption exists to "suck the energy out" of schools, forcing them to academise.
But Atwal says the feedback after the first inspection day was "the best I've ever received in any school" He was "cock-a-hoop".
But then concerns emerged about sequencing in some foundation subjects, which was contained in one document as opposed to being presented separately. Atwal was told this spelt a 'requires improvement' grade for "quality of education", which then brought the overall grade down.
Despite spending the next six months disputing "factual inaccuracies" in the report – Atwal lodged a formal complaint, followed by an internal review of the complaints process – the watchdog has refused to back down.
He defiantly claims that "not one parent" at Uphall "gives a hoot about Ofsted", and that pupil numbers are still rising.
Last year, Uphall's early years group was the second-highest performing in Redbridge, despite it being in the most deprived ward.
Atwal remains convinced he is building his pupils "to be successful lifelong learners, not just to regurgitate knowledge".
The government's focus on "making the curriculum as robust as possible" is turning teachers into "trained monkeys, getting kids to start preparing for GCSEs aged five", he says.