The Beatles were greeted by the deafening roar of thousands of screaming fans when they arrived in the United States for the very first time on this day in history, Feb. 7, 1964. 
"When the Beatles arrived in America, it was like seeing a new color for the first time," a fan said years later. 
Pan Am Flight 101, a Boeing 707, touched down with John, Paul, George and Ringo — the Fab Four still known globally by their first names — at the recently renamed John F. Kennedy International Airport in New York City at 1:20 p.m. ET.
ON THIS DAY IN HISTORY, FEB. 6, 1911, PRESIDENT RONALD REAGAN IS BORN IN ILLINOIS
America, reeling in the wake of the assassination of President John Kennedy just 11 weeks earlier, was instantly intoxicated by Beatlemania.
"The pilot [rang] ahead and said, 'Tell the boys there's a big crowd waiting for them,'" Paul McCartney said in "The Beatles Anthology."
"We thought, 'Wow! God, we have really made it.'"
The band would soon dominate global pop music and, in many ways, reshape Western culture for generations to come. 
"We thought, 'Wow! God, we have really made it.'" — Sir Paul McCartney
"Pandemonium broke out among the stamping, banner-waving fans as The Beatles — John, Paul, George and Ringo — stepped from the plane," The Daily Mirror of London wrote on its front page the following day, under the lead headline that screamed, "Yeah! Yeah! U.S.A.!"
FOR SUPER BOWL SUNDAY, OVER/UNDER AT 1.45 BILLION CHICKEN WINGS EATEN IN FIRST-EVER 'WING KING SPORTS BOOK'
"I think the world has gone mad," the story stated, quoting a New York City police officer who was working crowd control at the airport.  
The Liverpool lads had become superstars in Britain only a year earlier. Their arrival in America brought Beatlemania to an entire new level. It would soon consume pop culture.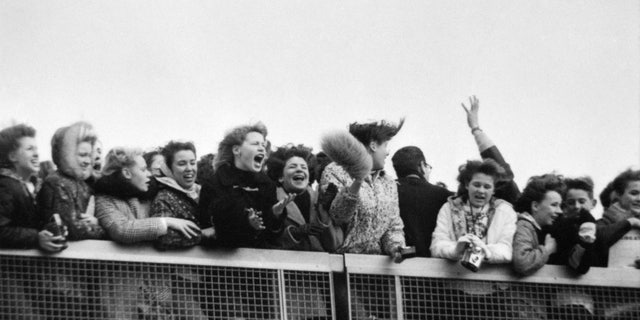 The Beatles would prove even bigger in the United States than they were in the United Kingdom. 
"America was the best," Ringo Starr said in "The Beatles Anthology." "It was a dream, coming from Liverpool."
The Lovable Mop Tops appeared on "The Ed Sullivan Show" from Midtown Manhattan two nights later, a landmark moment in American cultural history. 
"America was the best. It was a dream, coming from Liverpool." — Ringo Starr
Their performance was seen by an estimated 73 million Americans, nearly 40 percent of the entire population of the United States at the time.
The Beatles soon dominated U.S. radio and music charts. 
The Top 5 Billboard hits for the week of April 4 were "Can't Buy Me Love," "Twist and Shout," "She Loves You, "I Want to Hold Your Hand" and "Please Please Me" — each song by the Beatles.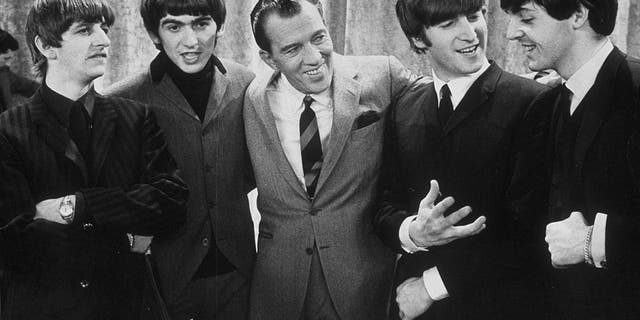 The feat of one act owning the top five spots on the American charts has never been duplicated — or even approximated.
America's obsession with the Beatles has never ended, nearly 53 years since they disbanded. 
"Abbey Road," the classic Beatles album released in 1969, was the 12th best-selling album in America — in 2022, according to Billboard.
The Beatles returned America's embrace.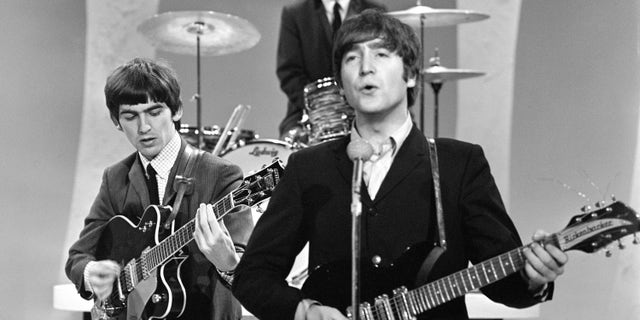 John Lennon moved to New York City in 1971. He was tragically killed outside his Manhattan home in 1980 by a deranged fan — leading to an instant outpouring of grief in New York and across the nation. 
CLICK HERE TO SIGN UP FOR OUR LIFESTYLE NEWSLETTER
"I play here four to five times a week and you see people silently crying to themselves," New York City musician Jules Avalon told Fox News Digital in December as he performed at Strawberry Fields, a corner of Central Park devoted to Lennon and the Beatles across the street from his murder site.
"'Abbey Road,' the classic Beatles album released in 1969, was 12th best-selling album in America in 2022, according to Billboard."
George Harrison was living in Los Angeles when he died in 2002. 
McCartney and Starr continue to tour the United States.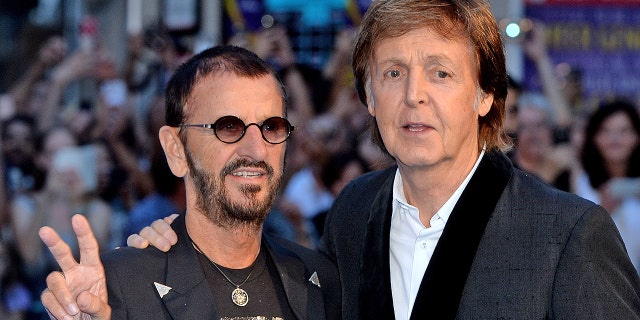 Fans spontaneously serenaded McCartney with "Happy Birthday" last summer when he performed at MetLife Stadium in New Jersey on the eve of his 80th. 
AT PAUL MCCARTNEY CONCERT, FANS CELEBRATE SIR PAUL'S 80TH WITH GLEEFUL 'HAPPY BIRTHDAY'
It appears a new generation of American children will grow up with an appreciation of the Beatles' sound and their impact on our national heritage. 
John Lennon's "music made people happy," Ethan Doyle, 12, of Philadelphia, told Fox News Digital in December outside the Dakota where the musician was murdered, accompanied by his mother, Monique, and brother Brodie, 9.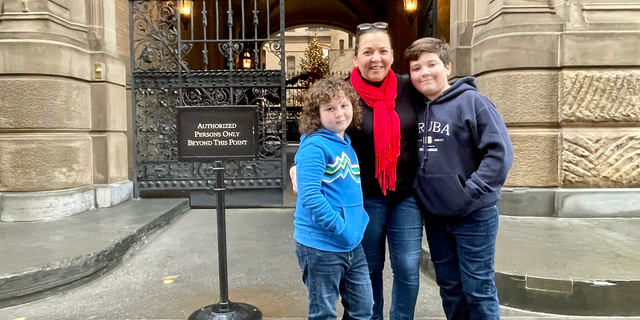 "This place radiates importance."
At one point during McCartney's MetLife show last summer, a couple and their three small children — perhaps none older than 8 or 9 — danced gleefully as McCartney performed "Love Me Do." 
CLICK HERE TO GET THE FOX NEWS APP
The young children responded instinctively to the Beatles' sound — much the way their grandparents did in 1964.