John Brewin is returning to oversee things for the next phase of this match. I shall leave you in his very capable hands.
Ymer won his first service game without too much fuss and goes 0-30 up on the Tsitsipas serve. The Greek stays cool and reels off three straight points to level things up at 1-1.
Ymer v Tsitsipas is now underway on Suzanne Lenglet and that will be our focus.
The umpire is out of his chair again as Čilić chases the break. Again Simon is not the beneficiary and Čilić closes in victory, securing the break with a forehand past the Frenchman on the backhand side. Trainer now on to treat Simon.
Great point at 30-30 as Simon and Čilić cover all parts of the court, eventually the Frenchman's lob runs long to reward his opponent's chase down. On the next point a generous Simon hands Čilić the point by correcting an erroneous call that the Croatian's return was long. Incredible sportsmanship but it costs Simon the game.
Gutsy hold from Simon to start the third set, Čilić appears to be trying to whack the cover of the ball but dumps a backhand into the net and Simon leads a set for the first time in the match, 1-0.
Čilić has now sealed the second set against Simon, holding serve to to take it 6-3. On Simmone Mathieu, David Goffin is taking on Hubert Hurkacz.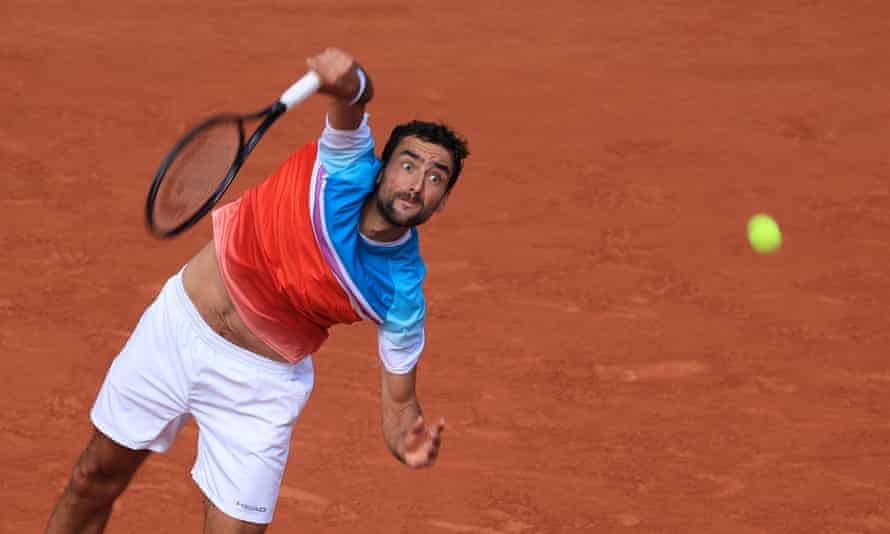 Next up on Suzanne Lenglet, Mikael Ymer takes on Stefanos Tsitsipas.
Badosa retires! Kudermetova wins 6-3 2-1
Just when it looks like the Spaniard is rediscovering her game a break of serve prompts a quick nod to the chair and with that the match is over. The third seed is out and Kudermetova will now face Madison Keys or Elena Rybakina in the fourth round.
Simon has finally won a game on Chatrier but his final French Open looks to be coming to an end. The home favourite is down 1-4 in the second.
Much more like it Badosa as she opens up her shoulders to whip a perfect forehand deep into the corner on Kudermetova's backhand side. The Russian holds with a fierce serve into the body. It is 1-1 in the second.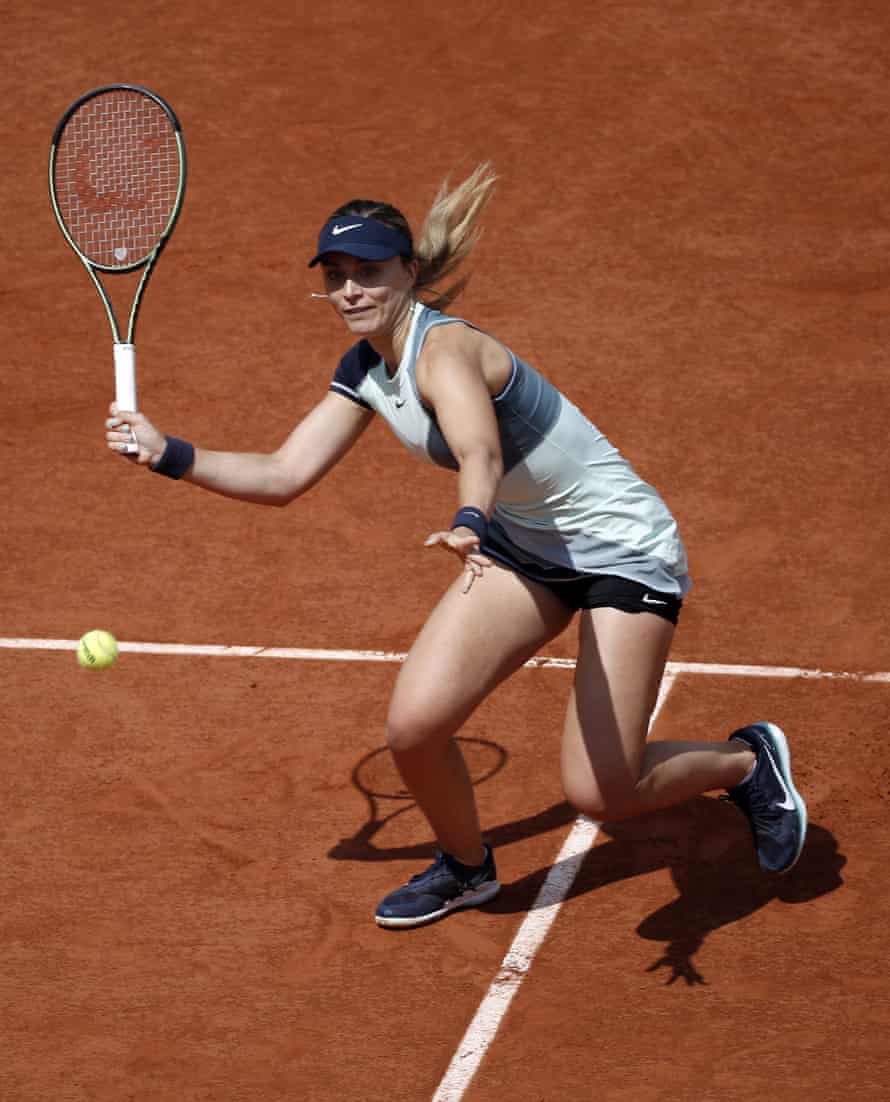 Pegula beats Zidansek 6-1 7-6 (7-2)!
Zidansek's challenge is halted in the tie-break as Pegula pulls away to move into the fourth round.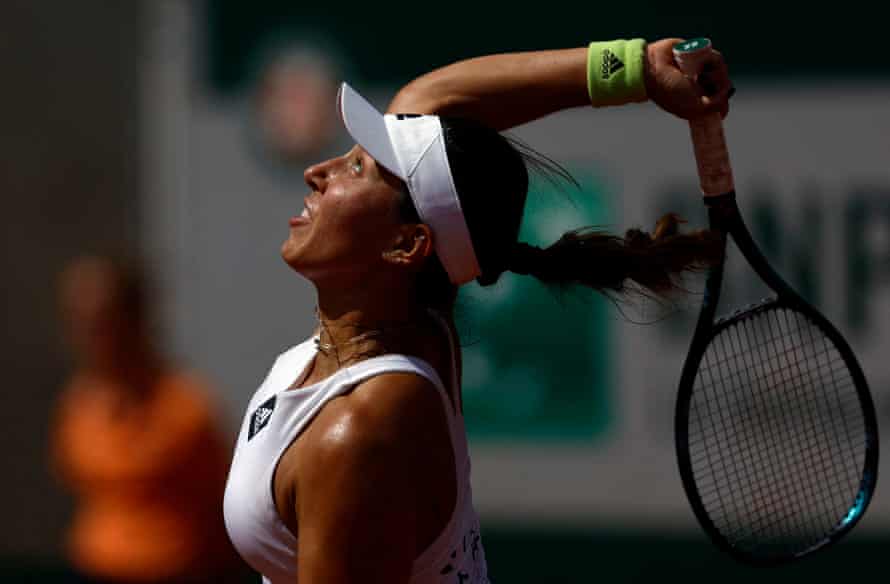 Giorgi beats Sabalenka 4-6 6-1 6-0!
Some fightback from the Italian who gave up the first set but then lost just one more game to dump out the seventh seed.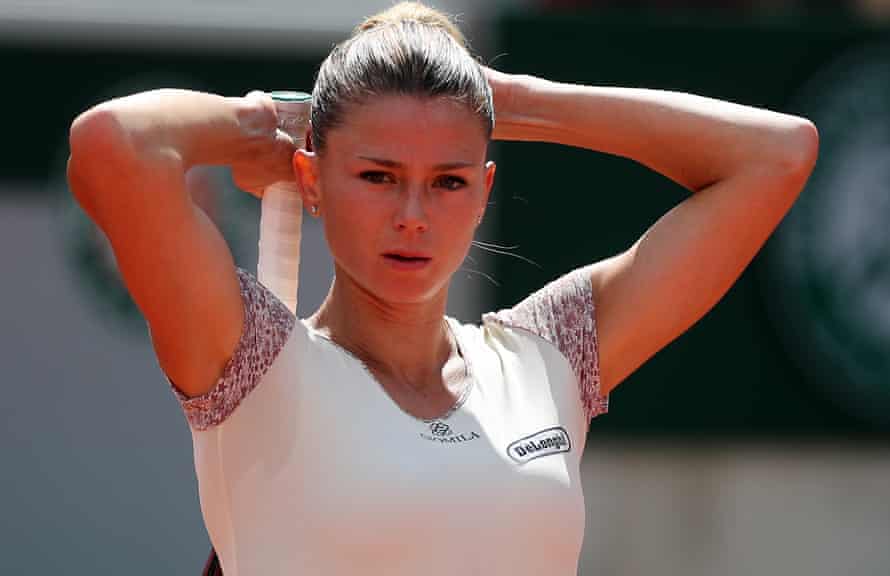 Badosa slaps herself across the face as she slaps a forehand winner past Kudermetova to take the opening game of the second. She is clearly trying to wake herself out of this funk.
Routine hold for Kudermetova means she takes the first set 6-3.
Kudermetova is all over everything Badosa is sending over the net. The Spaniard looks a little forlorn after that break for treatment on her knee and her opponent smells blood. However, a couple of sloppy errors from Kudermetova and Bardosa gets a much needed win to stop the rot at 3-5.
Zidansek has fought back against Pegula and they are now at 5-5 in the second. Giorgi's resurgence also continues, she now leads 3-0 in the third against Sabalenka.
Seven games in and Čilić is yet to drop a game against Simon. The 20th seed won the first set 6-0 and leads 1-0 in the second.
Kudermetova screams as she hits a backhand winner down the line, but she should never have had the chance. Badosa misses a big opportunity to change momentum as the ball sat up mid-court. Kudermetova holds to go 5-2 and the trainer comes out for Badosa.
Badosa is now having to fight hard for every point on Lenglet and has lost her second service game in a row. After a ding-dong battle in game five, Kudermetova finally triumphed and now, facing break point, Badosa can only hit a tame backhand into the net to lose her fourth game on the trot. The Spaniard led 2-0 but now trails 2-4.
Giorgi has forced a third set against Sabalenka, with the Italian winning the second 6-1.
Čilić looks to be on his way to winning the first set. He is now 4-0 up against Simon and the last remaining Frenchman in the men's draw is facing an uphill battle.
We are back to all on Suzanne Lenglen. Kudermetova has found her rhythm and is striking a fierce ball. It is not always pretty, but it is starting to prove very effective and the Russian breaks back to make 2-2.
Kudermetova is on the board, winning a 16-point game to hold serve. Elsewhere Giorgi is fighting back against Sabalenka, the Italian leads 4-0 in the second. Things a more routine for Pegula, the American has already got a break to lead the second set 3-0.
Gilles Simon has played some incredible tennis to reach the third round at 37 but Marin Čilić is a step up in quality. They are in action on Chatrier, where the Croatian is already a break up and serving for a 3-0 lead in the first.
Kasatkina beats Rogers 6-3 6-2!
All over on Court Seven as the American's unforced backhand error on serve completes a routine win for Kasatkina.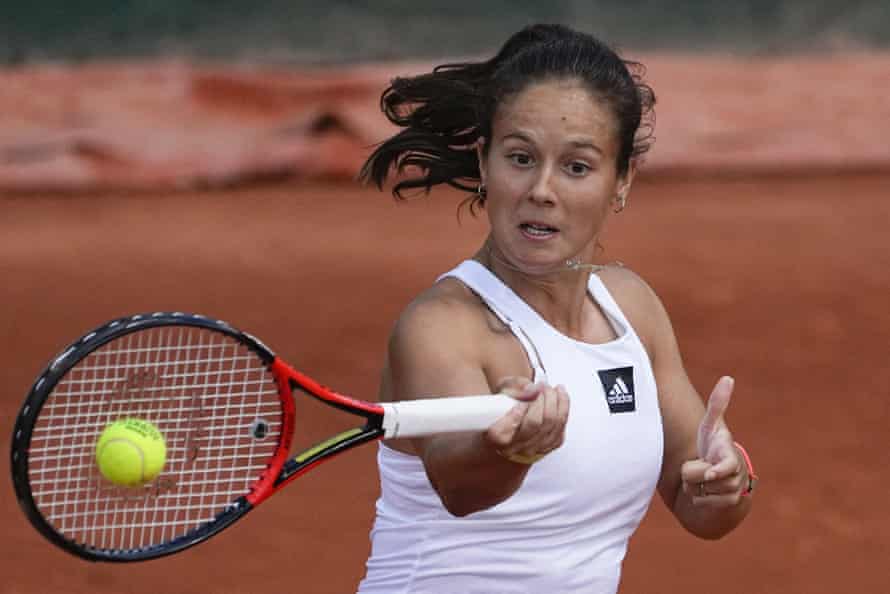 Badosa is wasting no time. Kudermetova sprays a forehand wide to her opponent's forehand and the Spaniard has a 2-0 lead after a break in the very first game.
A few more women's singles updates… Sabalenka has taken the first set 6-4 against Giorgi, Pegula won the first set of her match against Zidanzek 6-1, and Kasatkina is on the verge of victory against Rogers, with the Russian leading 5-2 in the second.
Now getting underway on Suzanne Lenglet is the third seeded Paula Badosa against 29th seed Veronika Kudermetova. The Russian will present the toughest challenge for Badosa so far.
Zheng wins 6-0 3-0 as Cornet retires
The injury the French player picked up in the second round proved too much to overcome and Cornet has cut the match short.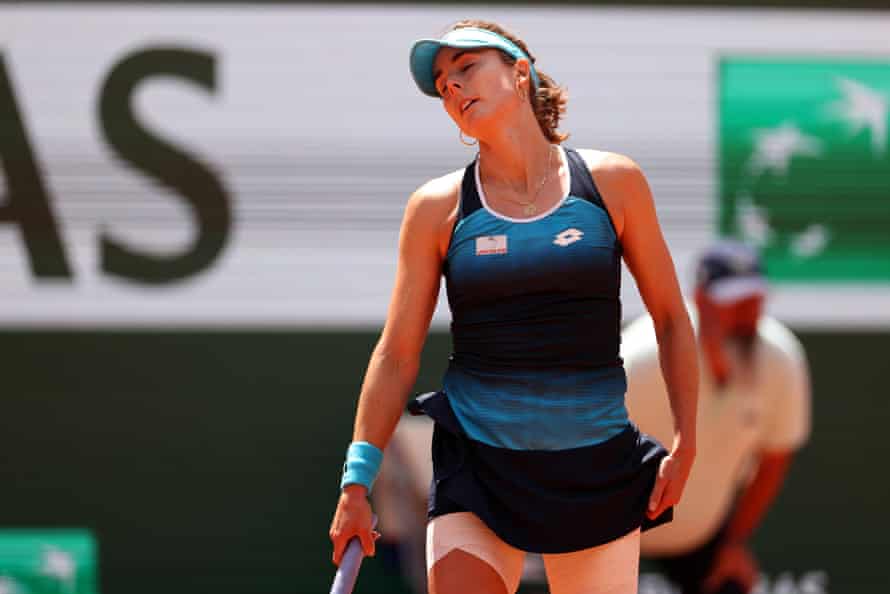 A couple more women's singles matches underway. Camila Giorgi and Aryna Sabalenka are 3-3 in the first, while Jessica Pegula is 4-0 against Tamara Zidansek in the opening set of their match.
Medvedev beats Kecmanović 6-2 6-4 6-2
Another preposterous backhand from Medvedev finally puts his opponent to bed. The world number is playing some his best ever tennis on clay and showed it when it mattered against Kecmanović. This will put the other big guns at Roland Garros on notice.
And just like that is all comes crumbling down for Kecmanović. Two games gone in an instant and Medvedev is now serving for the match at 5-2.
Kecmanović's stand could be coming to an end. Medvedev finally takes his fourth break point to go 3-2 up in third. Can he back it up on serve? On this form it would be a major surprise if he did not.
In the battle of Russia v America on Court Seven, Katasina has taken the first set 6-3.
On Chatrier, Zheng has bageled Cornet in the opening set.