Key events
Women's rugby sevens: England fell to a 38-7 defeat by New Zealand earlier today in Pool A, while Canada thrashed Sri Lanka 74-0.
In Pool B, Scotland beat South Africa 33-12 and Fiji defeated Australia 19-12.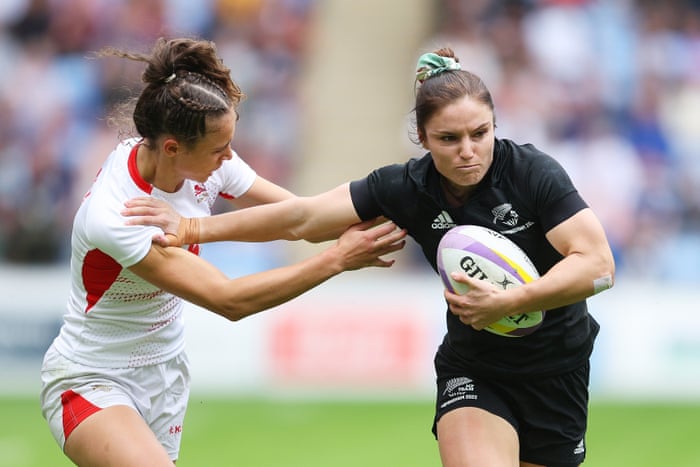 Women's netball: It's all coming up Australia again today … they have just pulled off an 83-30 destruction of Scotland in Pool A.
The BBC report that Sophie Unwin of England has been fined by the UCI after a 'protest' against the lack of a bronze medal in the tandem B sprint.
The event had four entries, meaning only gold and silver medals were awarded. According to the BBC, the para-cyclist Unwin and pilot Georgia Holt borrowed bronze medals from teammates Laura Kenny and Josie Knight and posed for photographs on the podium at Lee Valley Velodrome, and were fined 200 Swiss francs as a result.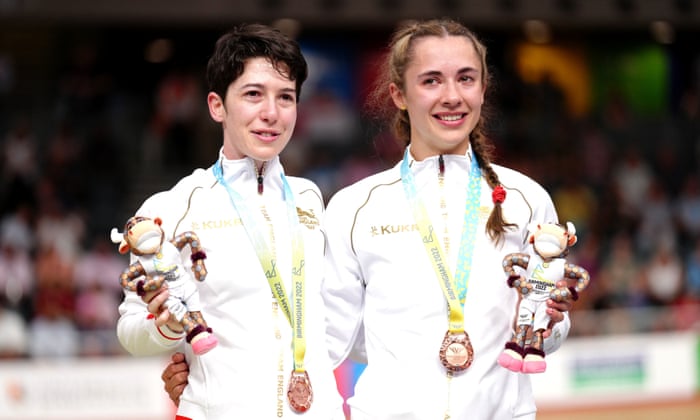 Kasdan wins 55kg weightlifting gold for Malaysia
In weightlifting news from a little earlier today, Aniq Kasdan of Malaysia claimed the gold medal in the men's 55kg weightlifting final. The 20-year-old took it with a Games record combined total of 249kg.
India's Sanket Sargar won silver medal, Dilanka Isuru Kumara of Sri Lanka won bronze while the Englishman Ben Hickling placed fourth.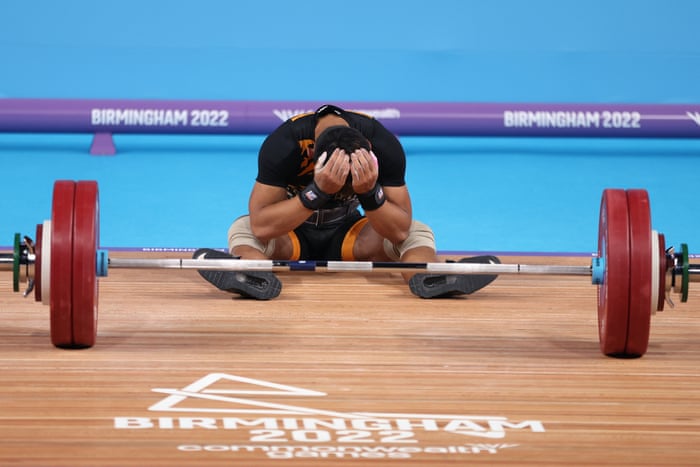 Gold for Jessica Stenson in the women's marathon!
That was a truly amazing run. She just ground her opponents down one by one and was too strong for the defending champion, Johannes, who dropped off the pace a long time ago.
Stenson says "Thank you" twice to the cheering crowd as she nears the finish line … and she has the energy to punch the air as she crosses it. A tremendous effort, and yet more success for Australia.
Muriuki comes in second, and is congratulated by Stenson, and here comes Johannes for the bronze.
Women's marathon: Inside the final 2km and Stenson has taken off her sunglasses … she's previously won two bronze medals in the marathon at the Commonwealth Games. She is closing in on gold, with a lead of 20secs or so. The spectators along the route urge her onwards. She heads up the final steep uphill section.
Men's rugby sevens: Scotland fell to a 34-0 defeat by South Africa, in Pool B, but their wins against Tonga and Malaysia yesterday mean they will go through to the quarter-finals.
Women's marathon: This is an incredible run by Stenson. Muriuki now drops away and the Australian looks to be speeding away to the gold medal, if she can maintain this for the final couple of kilometres.
Women's marathon: Johannes, the defending champion, is dropped by Stenson and Muriuki! Stenson powers on at the front, Muriuki managing to stay with her.
Women's netball: Australia currently Scotland 35-16 in their Pool B match.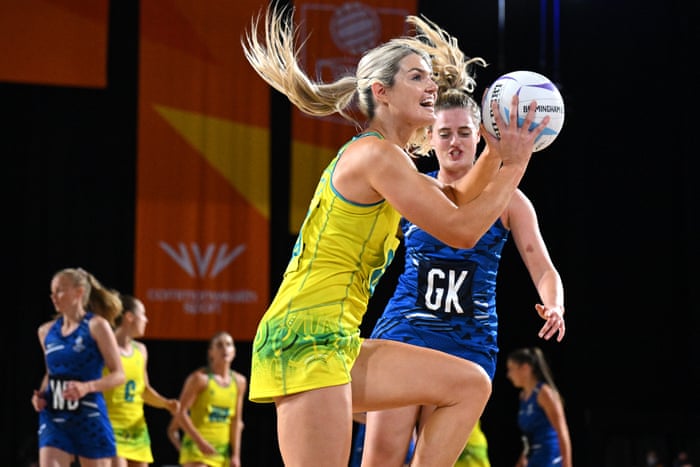 Women's marathon: Stenson leads her rivals, Johannes and Muriuki, as they move into the city centre: they have covered 36km now so have another 7km or so to go …
Australia dominated in the pool last night, and enjoyed a stellar start to these Games all round. If you missed any of our coverage last night, read on:
Women's marathon: Stenson, Johannes and Muriuki of Kenya have now forged decisively ahead and it looks as if they will fight it out for the podium positions. There's no current data on screen about how much ground they have covered, but they've been racing for 1 hr 56 mins.
Stenson smiles as she runs alongside from cheering fans … it might be half smile/half grimace given the effort she is putting in. On commentary for the BBC, Steve Cram reckons Johannes doesn't look 'completely comfortable' today.
Squash: The women's singles is getting under way at the University of Birmingham.
Results so far today:
Joelle King (NZ) 3-0 Leungo Katse (Botswana)
Amity Alarcos 0-3 Lucy Turmel (England)
Emma Keane (Bermuda) 0-3 Georgia Adderley (Scotland)
Jess Turnbull (Australia) v Colette Sultana (Malta) is the match currently on court.
Women's marathon: After 1 hr 40 min of the race, a group of five – which now looks likely to become four – is off the front. Failuna Matanga of Tanzania looked ready to drop away, but fights back in touch with the group that includes Jessica Stenson and Eloise Wellings of Australia. Namibia's Helalia Johannes, the title holder, is up there too, along with Margaret Muriuki of Kenya.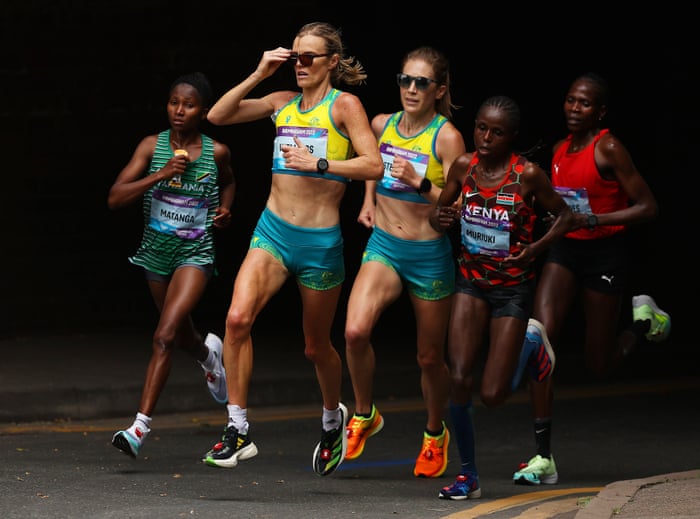 Swimming: After safely moving into the men's 200m freestyle final, Tom Dean of England has a chat with the BBC: "We could see what everyone else did … I knew it wouldn't take an insanely quick swim to make it back (for the final) … [I was] able to control it slightly more … it's always a little bit cagey when there's no semis."
Men's rugby sevens: England will not be progressing into the last eight: they've been beaten 20-0 by New Zealand and that, combined with yesterday's 34-0 defeat by Samoa, means it's the end of the road. NZ and Samoa will go into the quarter-finals.
Track cycling: Down at Lee Valley Velodrome, Lowri Thomas of Wales just took a heavy fall in the women's sprint, in a coming-together with her teammate Rhian Edmunds. She stays down for a while, but is sensibly taking her time after a nasty fall, and it's Edmunds that looks more upset by it all when they head back to track centre … "I'm fine," she tells her teammate, and gives her a hug.
The women's sprint is through to the quarter-final stage.
Men's hockey: Gareth Furlong has registered a hat-trick for Wales against Canada, and they lead 3-0 at half-time in that Pool B encounter.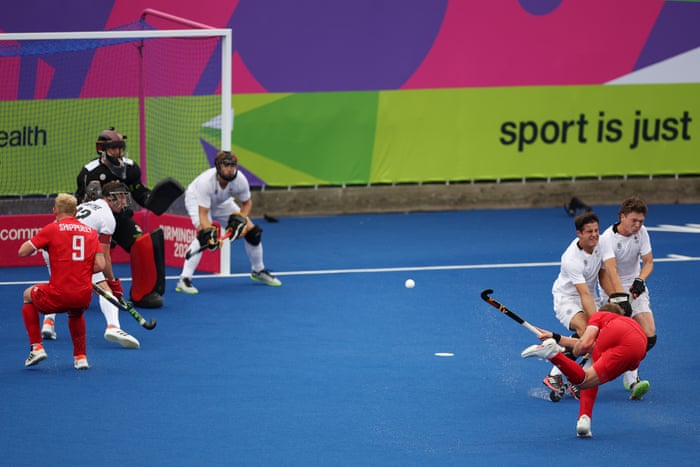 Peaty speaks after qualifying for the semi-finals of the 100m breaststroke: "I had no idea where I'm at. Still don't really, because I'm still blowing out the cobwebs. I've been at two races this year so it's a little bit different. Yeah, felt all right. The foot [that he broke 10 weeks ago] feels all right in the water. It's just literally now, go through the rounds .. we'll see how we improve for the semis.
"It's a very home Games for me, I grew up about 50 minutes away … it's great to see the crowd, and hopefully tonight will be even better."
Swimming: Adam Peaty wins his 100m breaststroke heat in a time of 59.92secs – a commanding performance and the fastest man in the heatsw. The broken foot that he suffered in the gym 10 weeks ago does not seem to be hindering him, which is good news. Sam Williamson of Australia is second in that heat with a time of 1min 0.16secs, with Brenden G Crawford third in 1min 01.11sec.
James Wilby and Greg Butler (England), plus Archie Goodburn, Ross Murdoch and Craig Benson (Scotland) also head through to the semi-finals.
Swimming: James Wilby wins the fourth heat of the men's 100m breaststroke, and now here comes Peaty …
Swimming: Zac Stubblety-Cook wins heat three of the men's 100m breaststroke, as expected, but he is pushed hard by Archie Goodburn of Scotland, and Craig Benson, also of Scotland, places third.
Thank you Barry and hello, everyone. We are fast approaching what the BBC's Jason Mohammad just called "Peaty Time".
He is in heat five of the men's 100m breaststroke, and we're already on to heat three.
Time to pass the baton: That's all from me – I have a stage of the Tour de France Femmes to go and cover but Luke McLaughlin is primed to take over our Commonwealth Games coverage. Over to you, Luke …
Victor Kiplangat wins the men's marathon
Have very briefly taken the wrong course through absolutely no fault of his own before cutting back on to the correct one, the 22-year-old runner takes gold for Uganda in Victoria Square, where he receives an extremely warm welcome from a very sizeable crowd of locals. He stops the clock at 2hr 10min 55sec.
Finishing 1min 34sec behind, Tanzania's Alphonce Simbu takes silver. Michael Githae, who only came to Birmingham as a travelling reserve, finishes third, 2min 21sec behind the winner. Australia's Liam Adams finishes fourth.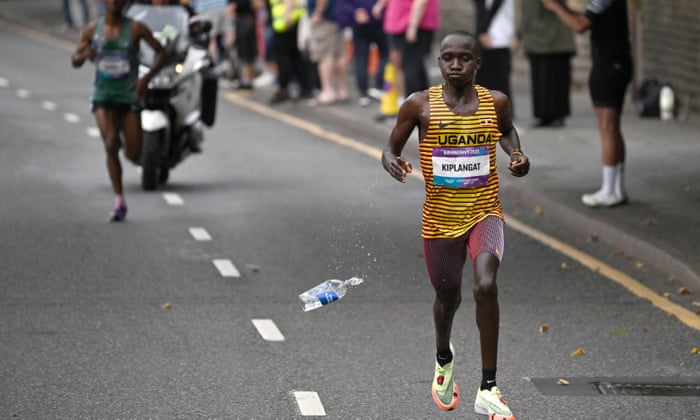 Men's marathon: The Ugandan runner Victor Kiplangat has less than a mile to run and is looking home and hosed barring some sort of disaster. In the silver medal position, Alphonce Simbu is way behind and out of contention for the gold but he is well ahead of Kenya's Michael Githae, who is looking good for the bronze.
Men's swimming: England's Olympic champion Tom Dean has qualified for tonight's final of the men's 200m freestyle final.
Scottish swimmer Duncan Scott, a silver medallist behind Dean in Tokyo is also through to the final, along with England's Joe Litchfield and the Welsh duo Matthew Richards and Calum Jarvis.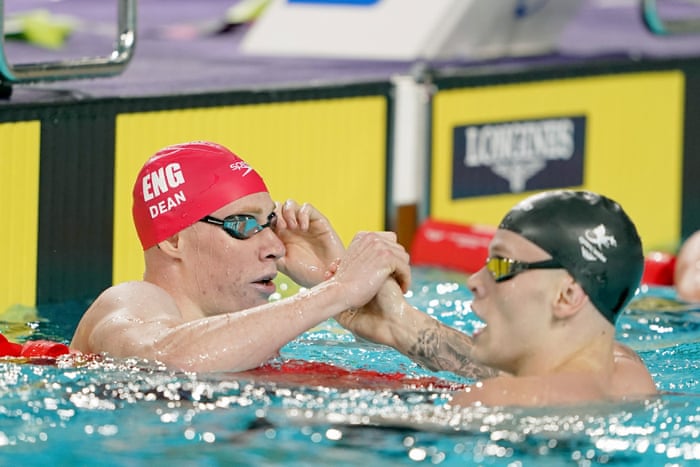 Men's marathon: After 35 kilometres (21.7 miles), Victor Kiplangat has pulled 18 seconds clear of Alphonce Simbu with Michael Githae a further minute back in third.
Men's marathon: After 30 kilometres (18.64 miles), Uganda's Victor Kiplangat has a clear lead over Alphonce Felix Simbu from Tanzania. The Kenyans Michael Mugo Githae and Jonathan Kipleting Korir are third and fourth with a three second lead over Australia's Liam Adams. The leader's time at the 30 kilometre mark was 1hor 32min 45sec.
Men's marathon: With less than 10 kilomtres to go, Victor Kiplangat (Uganda) and Alphonce Felix Simbu (Tanzania) have pulled well clear and look set to duke it out for the gold medal, while Australia's Liam Adams is currently winning the race for bronze.
The women's marathon has begun! Namibia's Helaria Johannes, the reigning champion, is in Birmingham to defend her title.
Men's marathon: Having led from the start, the Aussie Liam Adams seems to have shot his bolt. Kiplangat, Githae and Simbu are now out on their own in front with 1hr 25min on the clock. No sooner do I type that sentence than Adams and Misai rally to reattach themselves to the lead group, which is now a quintet.
Men's marathon: Whether it's one of the "benefits" of Brexit or down to some other reason, the course is marked out in kilometres rather than miles, which seems a bit daft considering everyone on the planet knows a marathon is 26 miles long in old money, with a bit of change. For those who may not know, including me until about two minutes ago, a marathon is 42.195 kilometres long.
After 25 kilometres (15.53 miles), a group of six runners have opened a sizeable lead on the rest of the field. Liam Adams (Australia) continues to lead, with Michael Mugo Githae (Kenya), Victor Kiplangat (Uganda), Alphonce Felix Simbu (Tanzania), Jonathan Kipleting Korir (Kenya) and Hamisi Athumani Misai (Tanzania) in close attendance.
Elsewhere this morning: As the men's marathon continues, there are track cycling qualifying heats taking place in the Lee Valley velodrome, whgile Engtland's women are taking on New Zealand in the women's rugby sevens. The women's artistic gymnastics also continues throughout the morning. With the men already out on the course, the women's marathon is scheduled to start in a little under 10 minutes.
David Weir speaks: In a post wheelchair marathon with the BBC, the Londoner refelcts on his bad luck after puncturing while well clear in a race that was eventually won by his compatriot Johnboy Smith.
"I have had problems with my chair since [the Olympic Games in] Tokyo," he says. "I went back to my old chair, I got it rebuilt and it has been fantastic.
"Since I have been back in this chair I just felt really comfortable and flying. It's just been a bit annoying. Since May the training has been through the roof. I have just felt 10 years younger, so it's just frustrating.
"If I didn't have my mates in the last 4km running beside me I probably would have stopped. I probably would have just pulled over and given up. From where I am from, on a council estate, you don't give up – in anything."
Weir also explains that, in an unprecedented move, he had considered bringing a spare wheel with him but eventually decided against it in the end. He suggests his wife may have talked him out of it because he'd never needed one before, so things could be tense in the Weir household tonight!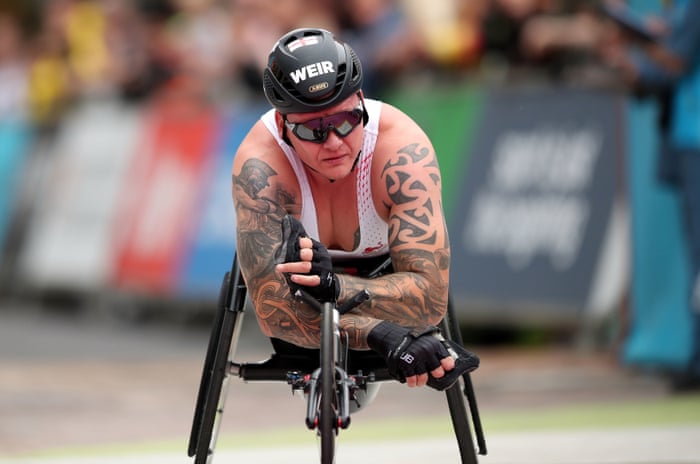 Men's marathon: Australia's Liam Adams leads at the 10km mark with a time of 31min 06 but can feel the warm breath of Tanzania's Alphonce Felix Simbu on his neck. Simbu's teammate Hamisi Athumani Misai is close by in third, with Uganda's Victor Kiplangat in fourth. The Kenyans Jonathan Kipleting Korir and Michael Mugo Githae occupy the next two places but at this early stage you could throw a blanket over the front runners.
England secure men's team gymnastics gold: For the third Commonwealth Games in a row England are gold medallists in the men's team competition, this time triumphing by 13.350 points. Tumaini Carayol was at the Arena Birmingham yesterday to see them romp to victory …
Birmingham's bonanza of sport
The start of the Commonwealth Games was blessed with warm weather, but some commuters were not impressed. Andy Bull reports from Leamington Spa and Birmingham …
The men's marathon is under way …
Alphonce Felix Simbu from Tanzania, who took bronze at the 2017 World Championships, has posted the quickest time of all the participants this season, while Northern Ireland's Kevin Seaward will be hoping to improve upon his fourth place finish in the last Commonwealth Games. Kenya's Jonathan Kipleting has the best PB in the field and could duke it out for the gold medal with his compatriot Philemon Kacheran.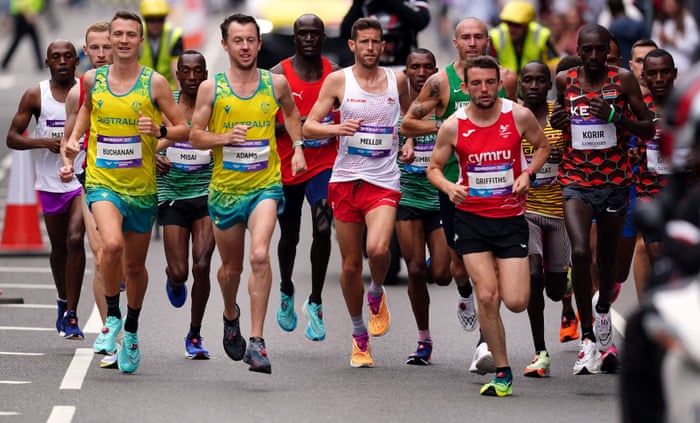 Gold for Australia! Two-times Paralympic champion Madison De Rozario was first to roll across the line in the women's wheelchair marathon, finishing in a time of 1min 56min 00sec. She beat Englishwoman Eden Rainbow-Cooper by 3min 45sec, with another Englishwoman, Shelly Oxley-Woods, a further four minutes back in third.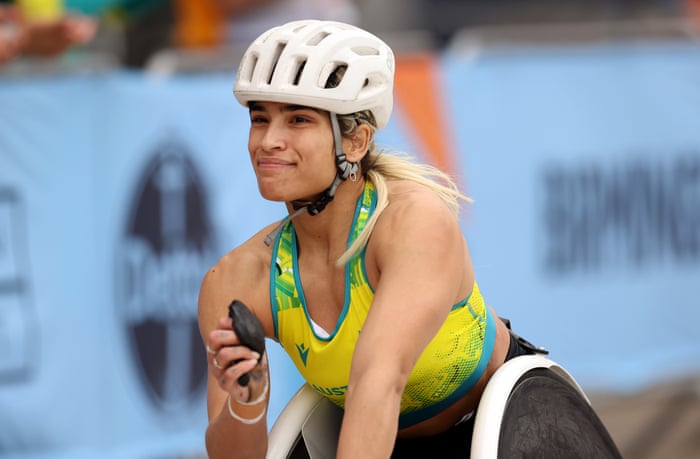 Commonwealth Games: day two …live!
Welcome one and all to the second day of our live Commonwealth Games coverage. There are no fewer than 23 gold medals up for grabs on Saturday and one of them has already been claimed by England's Johnboy Smith in the Men's T53/54 wheelchair marathon in a time of 1hr 41min 15sec. Smith finished 4min 34sec ahead of Scotland's Sean Frame, while Scotland's Simon Lawson was a further 10 seconds back in third.
In an extremely gracious victiroy speech, Smith acknowledged that he was extremely lucky to win and would have to settle for silver if race favourite David Weir had not punctured while in the lead. Weir finished the race with a flat tyre, coming in seventh, a little over two minutes behind the winner.